There are over 5,000 contested divorce cases in BC (2010/2011)* and the average cost of divorce in Canada is $16,000**.
Ouch! While those numbers might be a shocker, the average cost of divorce doesn't account for the complete costs incurred. What about the amount of time spent going through the litigation process, the emotional turmoil your family experiences, time away from work, and how the experience impacts your parenting?
Don't allow the average cost of divorce stop you from divorcing if you need to. Staying in an unsupportive or violent relationship, or separating without a legally binding agreement that could help you better care for your children isn't worth mountains of unhappiness, stress, and resentment. There are ways to separate and divorce without it costing you your life's savings.
A fresh start
If you and your spouse have agreed to separate, it can be overwhelming to consider the costs you will both incur by splitting your household and paying for two separate households. You'll need to take into account child support costs and the costs of living on your own. Ideally, you'll both be able to make a fresh start with some money in the bank after your divorce is over. Whatever your financial scenario, you'll be building your new life from that starting place. When people fail to see this bigger picture before they start the divorce process, they can become so entrenched in the "battle" that they deplete the family net worth on legal fees. Actually, they'd both do better to use that money for a fresh start.
Why is the average cost of divorce in Canada so high?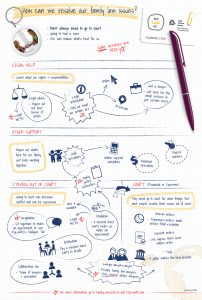 In short: lawyer and court fees. This list of court fees shows that it costs at minimum $300 just to get started, and if your case goes over three days in court, expect to pay $500-$800 per day. Add that to your lawyer fees — family lawyers typically start around $200 an hour —and you can see how costs can quickly spiral out of control.
At the higher range, divorce can cost $75,000 or more (see the next section to understand why), and often is a messy, horrible experience full of blaming and revenge-seeking. Sadly, children are often caught up in the crossfire.
How to lower the cost of divorce
Using a lawyer to exact revenge on your spouse is a risky and expensive act. If you and your spouse are willing and able to agree on all of the issues related to separation and divorce, you can file an agreement yourselves. If you can't agree on the settlement details, but you're both willing to talk it through with a professional, then mediation is a great alternative for a few reasons:
Cost of services
Going through a mediator can cut that $16,000 by 75% or more. Of course, it's not that simple and there are numerous variables involved that I'll explain in a moment, but by avoiding going through expensive lawyers and the Supreme Court of BC, you can save a lot of money.
Whether you litigate, mediate, or use some other method of resolution, the cost of your divorce will depend on how long it takes for you to reach agreement. Variables that determine cost/time include your conflict style and how you conduct yourself in the process, your level of preparation, how complicated your financial situation is (if you share properties and businesses, for example), and the degree of complexity in finding the best parenting arrangements for your children.
The average divorce mediation costs between $6,000 to $7,000. While there is no guarantee that you'll reach a settlement through divorce mediation, up to 78% of family mediation (which includes divorce mediation) disputes do reach settlement. The odds are in your favour.
Generally mediators charge an hourly rate, though some charge a full-day or half-day rate. Lawyer mediators often charge more than non-lawyer mediators (sometimes double). There is
no way of knowing for sure how many hours mediation will take, but a good mediator will be transparent about the process, and will work to make the process as efficient as is appropriate.
A mediator will recommend that you both obtain independent legal advice at points during the mediation process (at least once before mediation in order to educate yourself on what you're entitled to and responsible for under the Family Law Act of BC and also after mediation to receive advice on and formalize the agreements you've made). Other times, people choose to have their lawyers or other professionals present during mediation sessions. This increases cost, but may be helpful depending on the situation. Even then, mediation can cost less than litigation due to time.
Tip: Look for lawyers who offer "unbundled services."
Many lawyers are beginning to offer their services on an unbundled basis, so you can limit the scope of what they do for you (for example, advising you at certain points in the mediation process) and pay as you go rather than laying out large retainers.
Time spent
One in five contested divorces takes more than a year to reach settlement. These can be painful years that require you to also take extra time off of work.
Mediation, on the other hand, can take as little as a couple of months. Long, drawn-out divorces are especially hard on children's psyches and can really impact your parenting and wellbeing. The sooner both you and your spouse can begin to move on with rebuilding your lives, the better.
Divorce costs a whole lot more than just money, but you can save a lot by working out your differences through mediation rather than court. While the savings aren't guaranteed, the process often leaves couples feeling less angry and more committed to upholding the agreements because they themselves have constructed the agreements. Do you and your spouse believe that you are best qualified to make decisions about your children and your family's future, rather than a judge deciding for you? If you're willing to work through separation issues and plan in the best interest of your children, then mediation can save you heartache and money, leaving you more able to get a fresh start on the next chapter of your lives.
Get started
If you'd like to proceed with mediation, it's time to get the ball rolling. Do your homework on how to choose a family mediator and once you've made a selection, contact the mediator to discuss how to get started. Expect your mediator to explain the process of mediation well and to spend time learning about your situation by meeting with you and your spouse separately and confidentially prior to any joint sessions. Mediation isn't appropriate for all situations, so this is something your mediator must assess in your first conversations.
Think mediation is right for you? Contact me now to get started.
The information provided here is general. As a mediator, I provide unbiased assistance to help divorcing couples reach a separation agreement, but I do not provide counselling or legal advice.
* Statistics Canada
* Canadian Lawyer Magazine